NavChip™ Family
High-precision, rugged Micro-Electro-Mechanical Systems (MEMS) 6-axis Miniaturized Inertial Measurement Units (IMUs) are manufactured including temperature compensation to precisely measure angular velocity and linear acceleration.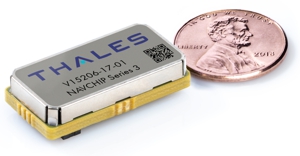 The NavChip family of IMUs are developed and manufactured with a robust architecture and advanced signal-processing technique that enables a level of performance unmatched in size class. The resulting architecture and patented compensation algorithms are one of a kind and, coupled with NavChip's™ miniature size and environmental ruggedness, makes the NavChip perfect for small yet demanding applications. Using sophisticated robotic systems, each NavChip undergoes detailed analysis, calibration, and subsequent performance verification over a wide temperature range to assure a highly reliable solution.
Using proprietary technologies and advanced signal processing techniques, the NavChip achieves a level of performance, miniaturization, and environmental ruggedness superior to competing IMUs using the standard off-the-shelf MEMs sensors.
The NavChip is especially well suited for embedded applications where extremely small size, weight, and power consumption are required. With its gyro bias stability of 4°/hr and low noise it is very low drift IMU with a full-scale acceleration range of ±16g and a full-scale angular rate of 2,000°/s. It is fully factory-calibrated and temperature compensated over an operating range of -40°C to +85°C.
Alongside the standalone NavChip, an evaluation kit is also available to simplify the evaluation and integration of the NavChip. The NavChip evaluation kit comes with all of the equipment necessary to interface the NavChip to a host processor, through either USB or RS-422. The kit includes a NavChip, a NavChip adapter board, a USB cable, and software tools that allow detailed analysis of the NavChip performance.
Unmanned Systems
Augmented and Virtual Reality applications
Camera & Antenna Stabilization
Pedestrian Navigation
GPS/INS Integration
Aiming & Alignment
Fully-compensated Δϴ and ΔV outputs
Gyro bias in-run stability 5°/hr
Angular random walk 0.18°/√hr
Velocity random walk 0.03m/s/√hr
Full-scale angular rate of 2000°/s
Full-scale acceleration of ± 16g
Low power consumption 135mW
Factory calibrated bias, scale factor and misalignment (-40°C to +85°C)
TTL UART, SPI and I2C-compatible data output interfaces
Single supply operation 3.25V to 5.5V (Typical 3.3V)
External sync pin can to synchronize IMU data samples to an external trigger source
Small 12.5 x 24.5 x 6.1 mm
Lightweight 3 g